SDDL MOVIE PROJECT UPDATES!
Order the SPECIAL COLLECTOR'S EDITION Book Set before they're all gone! Only 500 will be printed!
After several years on the shelf, Joseph James has finished writing the SCREENPLAY for the MOVIE. Now that they have some new contacts in the industry, it is now time to go ahead with the production. Watch our SDDL Blog, Tour Blog and SDDL MOVIE Facebook pages to keep up with the latest. We have set up a Go Fund Me Project to help with expenses in pursuing the movie production. Joseph is writing a Special Limited Edition, Hardback Color Book to help offset expenses in the movie project as well. There are only 500 of these being printed. Reserve yours today before they're all taken! Support our Follow Your Dreams Tour Outreach by visiting our tour website and becoming a part of our Patreon Project.
Janiece's Miraculous Journey!
This story is PASSIONATE! It is EXTREME! It is SUPERNATURAL! It is TRUE & REALITY! It journeys through pulsating twists and turns like a roller coaster on speed as the storyline unfolds. Is death really imminent? Against all hope, is there really hope? An evil looking finger points at her from out of the pitch black, eerie darkness. It's emerald green eyes glaring as it says, "You are mine!" Will it have its way? The horrific injury should have done her in. The seven years of mental illness should have been the final straw. In addition to this, through out the years, the asthma, the fibrocystic disease, the scoliosis, the  intense pain from the traumatic injury, the hallucinations, the traumas, and the fear seemed to be some part of an evil plot of a twisted and ominous plan designed from hell, itself. What was that creature with the pointed finger? or the black panther? or that giant winged creature in the night? Can you imagine what the effects will be like in this movie? What if Steven Spielberg was to produce it? It's not science fiction, it really happened. Not only is her story documented, but there are witnesses too!
We Need Your Help!
We need your help to get the word out and together we can bring hope to those who need it! If you haven't read the book, you might want to do that and then share it with others. Buy The Book! One of the greatest things we can share in our generation is HOPE! Own it today in print, the Kindle or the Nook! Order Info is on the left side of this webpage. Please contact us for more info, if you want to help, or for bookings to speak and minister. WE CARE!
Raising Funds For Movie Expenses!
There are seven ways to help us raise funds to cover expenses as we pursue producing  a movie from her story. (1) Purchase one of the Special Edition Books Set, details below. (2) Pledge your support on our Go Fund Me project! (3) Donate to the Follow Your Dreams Tour on our Beneficial Zone Website or Patreon Project with rewards. (4) Buy Joseph James' Books & Music and also listen to his music on YouTube and Streaming sources like iTunes, Spotify, iHeart Radio, etc. (5) Help us spread the word about Janiece's story, our projects and tour. Facebook Page (6) Book the tour at some venues in your community and elsewhere. (7) Pray for us and become a prayer partner in these outreaches to encourage others to Follow Their Dreams and not end their life.
SPECIAL COLLECTOR'S EDITION!
Pre-Purchase the new, upcoming, Special Limited Edition, Autographed &
Numbered, Color Hardback Book Joseph James is writing in story form to
be released before the movie premieres!
ONLY 500 Books
Of this Special Hardback,
Numbered Edition will be Published!
* Final Cover Design Subject To Change!
Target Release Date:  June 1, 2019
This Offer Includes Her Original Biography Which Is Mailed Immediately After Purchase.
This 500 Book SPECIAL OFFER will help us cover initial expenses in taking this story from a screenplay into a new movie. It will also help us spread the word about her story in preparation for and anticipation in the upcoming movie.
Her Current Biography below can be purchased on our website for $19.95 and also on Kindle & Nook. It is also available on Amazon. Read the story and pass it on so that others can read and be encouraged and then get ready to see it on the big screen. It costs a lot of money to produce a movie, but together we can do it. From the sale of just 1 million prints of her current biography, we can produce the movie.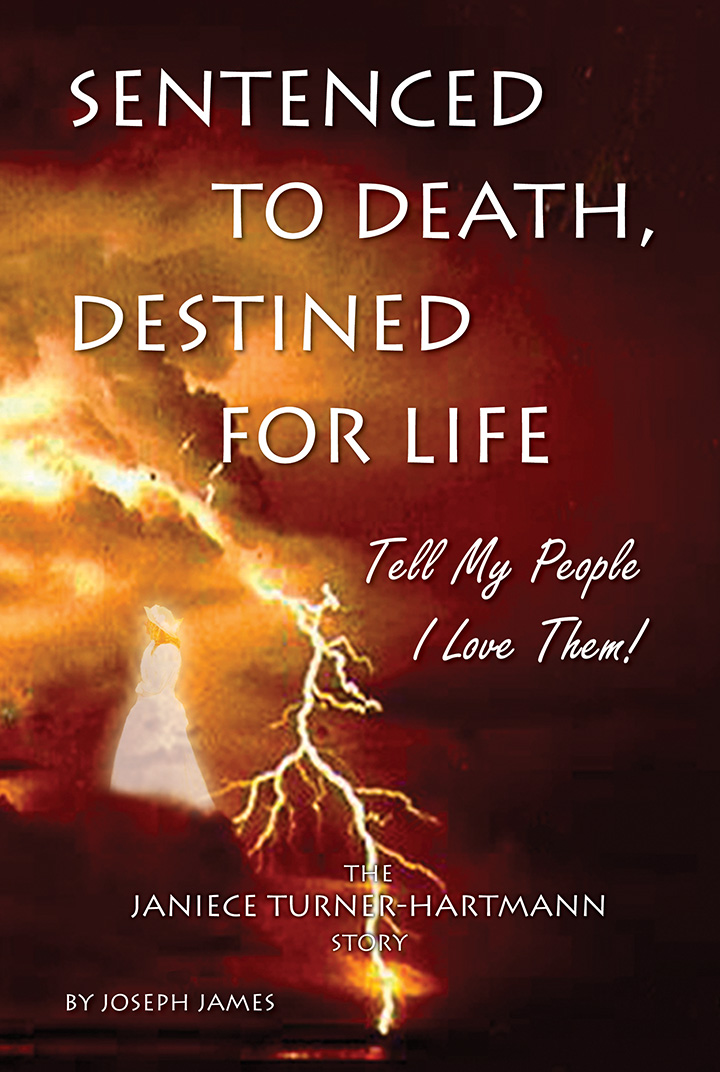 Purchase Janiece's Biography for $19.95 at our Beneficial Zone
Store, watch approximately 7 hours of video by Janiece, listen to Radio
Shows we've been on and more info at the websites below.
Keep up with the latest news on the projects we are doing and
where we are on tour at the websites below and connect to our
social media from there. May the Lord bless you and encourage you
to Follow Your Dreams, the ones He's written for your life! Psalm 139
Janiece's Story Website: SentencedToDeathDestinedForLife.com
Joseph James Tour Site: Joseph-James.net
Shopping & Donations: BeneficialZone.com
Tour Support | Patreon Project
Movie Support | Go Fund Me Project
Help us get the word out there about Follow Your Dreams and let's CANCEL SUICIDE & DEPRESSION.